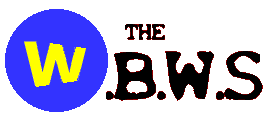 Maximum of Mood
(Probably infringement of copyright, but we don't care)





Welcome
to the official webpage of the up-and-coming punk band "The W.B.W.S." This page will, in the near future, have pictures of the bands' members.

Our Drummer has GONE MISSING!!

So we are looking for a new one.
If you want the story of the missing percussionist, Click Here.



TAKE THE OFFICIAL WBWS POLL




About the Band

Links

Story of the disapperance of our former drummer, David Romacat

Band Member Projects

101 reasons to become our BASS PLAYER


Join El Presidente-the official WBWS fanclub



La Mejor Cerveza... El Verdadero Sabor !!!